2009
09.25
Facebook CommentsTNG: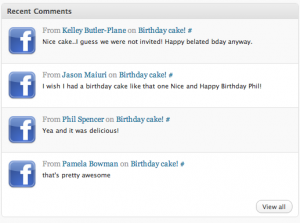 Facebook CommentsTNG is a plugin for your WordPress blog that will spider your notes page and find imported WordPress blogs and bring the comments back into WordPress. This is a complete rewrite from the original but I did borrow some ideas from it. Kudos to the original authors for their initial effort and for their plugin giving me the motivation to write this one!
Features:
Will recursively scan through all notes and bring in comments
Test mode to see what would be imported without risking the database
Uses simple html dom which means it'll be easier to fix if Facebook changes
Limit option to limit how far it goes back
Timed automatic scanning
Set what note you want it to start on
E-mail field for setting a custom e-mail, The default is facebook at philtopia dot com which has a Gravatar set up with a Facebook picture
Plugin can crawl your notes despite language set
Plugin can get accurate post time from Facebook
Auto approval of comments (make sure the plugin works for you before you turn this on)
Option to link to generic facebook.com or directly to the profile of the commenter
Now supports Facebook Pages!
FAQ
Facebook alerted me that an unknown device tried to log in and the plugin doesn't work
When you have the higher security options enabled in Facebook it can prevent use of this plugin you can modify your settings in Facebook under Accounts > Account security. Login Approval should be unchecked if you want uninterupted use of the plugin
This isn't working
Make sure you have the latest version however you should keep in mind that this program is scraping a website for data and if that website changes it can compromise the functionality of the plugin. This plugin is written in the spare time of one person who has a new set of twins to also care for so when major issues occur it may take time to resolve. Your paitence is appreciated.
I just activated First names only and now I have duplicates
If you do this before running a test or update the old comments will not be upgraded with fb ID's and they will be seen as new comments. You can remove the duplicates and they will not duplicate again
How do I get the Page ID of a Facebook page
Log into Facebook and click ads and pages. Then grab the id from your URL http://www.facebook.com/home.php#!/pages/edit/?id=123456 <- 123456 would be the ID
It told me it ran out of memory with a fatal error
In most cases this has been corrected however it can still happen. Try to limit your crawl, I set mine to 10 for example. If you need the older comments you can change the start page to get them then change it back, historically facebook people only comment on new things anyways. If you are using filters or notifiers that handle comments as they come in this may double the load and cause an issue
I get Parse error: syntax error, unexpected T_OBJECT_OPERATOR
You are not running PHP 5 and unfortunately this plugin requires it
Why doesnt this work with….
That is not the purpose of it, it only works with facebook notes, not any plugins that pull WP into facebook, status updates, wall posts etc. Once again it ONLY works with default imported facebook notes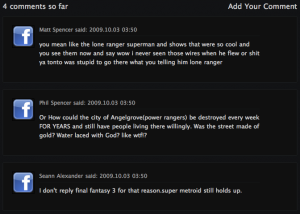 Working on for next version:
Download: Facebook CommentsTNG
Development takes time and every bit helps!