2010
03.01
Of Mobile Facebook.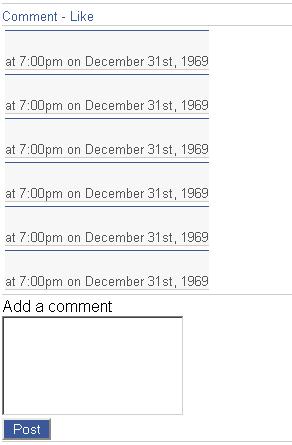 It has now been a week since mobile Facebook broke comments on Notes and there seems to be no fix in sight. I check every day and every day I see December 31st 1969 and blank spaces where comments once were. Today standard Facebook imported my blog post below but I noticed that it did not appear in mobile. I am hoping this is just an overlooked glitch and not a trend towards discontinuing the mobile sites. I have been posting bug reports semi daily to Facebook with no response and today I complained on their blog that was going on about how much their Mobile sites rock.
Why do I care?
A couple reasons, number one is that mobile Facebook gets you all the same info regular Facebook does while the mobile app on my blackberry just gives status updates, comments and messages so when I need something specific like an event location, read note comments or access to groups mobile Facebook is the better choice on the go.
Secondly, I have a plugin Facebook CommentsTNG which takes comments from imported Facebook blog posts and puts them back into their home WordPress blog. Myself and about 1000 other people use this plugin to keep our social worlds connected and since this breakage it does not function.
To conclude, you can see if you have this problem as well (some don't it seems but most do) by logging into mobile Facebook and clicking notes at the bottom, pick any notes with comments and see if they are blank with the wrong dates. If they are I have provided some links for you to help the cause below.
Helpful links:
File bug report here
Comment on the Mobile Facebook blog here
Together maybe this can be fixed. Thank you.
Facebook Comments