2011
12.07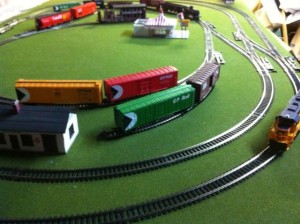 It's been some time since my last model railroad update but the quest is not over yet, far from it. I had spent the summer at my summer home and some house issues since returning had prevented me from resuming my hobby.
I decided to final try out wiring one of my several switches to work out any kinks I may run into along the way so that I can plan and quickly implement the other switches to some sort of standard implementation.
Initially I was going to have the wires come up under the switch but that proved impossible to maintain a connection or to screw down the wires. What I ended up doing was coming up slightly behind the switch motor and covering it with black electrical tape to cover up the existence of the wiring.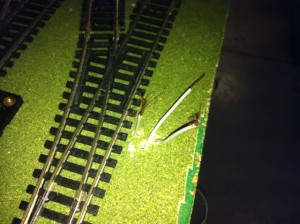 Once all the switches are done I will look into some type of gravel or bush modelling to cover up the motor all together. I had considered under the table motors but this is m first return to modelling in 15 years so I decided it would be ok if I wasn't entirely discreet this time around.
The switch motor worked perfectly but I have now run out of wire so the rest of the motors will have to wait. I then decided to final nail down the inner main and the branch line as they were still not securely fastened to the table. This took some time as I had to make sure the tracks remained properly aligned to avoid an annoying mismatch once I got to the last piece. After had finished a large section of track I would run a loco with a car on each end of it backwards and forwards over the action to test power and look for derailments.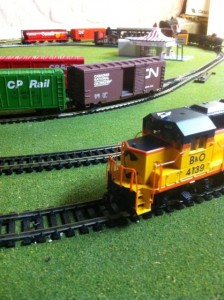 Over the sumer my grey cat had decided the train was a sleeping area and turned several sections of green to a hairy sort of grey so I cleared all buildings and train equipment off the track and vacuumed the layout. I used a brush attachment for the extremely hairy areas. I also took the time to clean up the area behind the layout which was a mess of switch motors,wires, spare tracks and tools into a much more organized area.
I got a lot of good work done today and there will be more to follow in the coming months!
Facebook Comments