2019
05.28
So after months and months of grey skies and cold the sun has finally graced us with its presence. This of course can only lead to trouble. Trouble on the roads
I am talking about Construction
So within a couple weeks my commute of 1 hour and 10 minutes has been turned on its head and the first 1/3 of my drive has now become 1 lane or detours. All at once! Now I get that road maintenance is important and repairs are key to my safety however this year it really seems like they are taking an all or nothing approach, something I have yet to see in my decade of commuting from Niagara to the Toronto area.
For starters they have had the 406 down to 1 lane for about a year now as they repair a bunch of overhead bridges. This was not unexpected I have seen them do this all long my commute replacing or reinforcing old bridges for over 5 years now. The problem is that a lot of stupid people seem to live in Welland or Port Colborne and they like to ride the middle of the lane to block proper use of the merge. It's as if they feel they are far too important to allow anyone to merge a car or two ahead of them?! However now it seems they are planning to completely replace two bridges that cross lake Gibson, they have been building what appears to be bypass lanes across the grass median to the other side on both sides of the bridges. That is going to be hell.
Secondly they now have the QEW/406 Toronto bound merge all blocked off and they force you to go from the 406 to Seventh and then you have to take the side street down to Jordan station. This was ok the first week, not much of a delay but now it is a stop and go hell. Lets not forget that the Niagara Bound 406 merge has been blocked 75% of the last year and they also have a bunch of the St Catharine's interchanges closed.
I'm not spending the whole summer traversing this mess so I am taking a country detour for the foreseeable future. I just don't see why this all had to be done at once. It feels as if they didn't consider any of the impact to the Niagara Region by having the entire St Catharines/Thorold sections of the QEW and 406 under construction.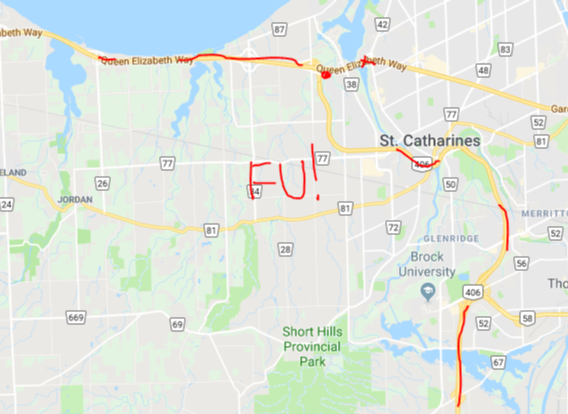 Facebook Comments